Cookieless tracking
(It's not really tracking, more of cookieless statistics to be correct. But who's 100 percent correct these days?)
What is cookieless tracking?
Cookieless tracking is the possibility to track visitors that don't accept cookies. Or at least to count them as visitors and see their conversions.
Since several countries have strict laws when it comes to cookie consent, you might already have a cookie bar set up where visitors can turn down cookies. If they say no to cookies you'll only track the visitors that accept cookies.
When you only track people saying yes to cookies you'll have excellent figures/numbers in your analytics! For example:
📉 A lower Bounce rate
📈 A higher Conversion rate
🙋 A higher Engagement rate - for example more actions/visit, higher share of returning visitors.
And for all marketers out there - this doesn't sound too bad, right?
Unfortunately, you'll also see around one-fifth of your actual website visitors. And if visitor count is important to your boss, it's not easy to explain the 75% decrease in visitors when you introduced your cookie bar.
This is why you need cookieless tracking. Or cookieless statistics. To get correct website data.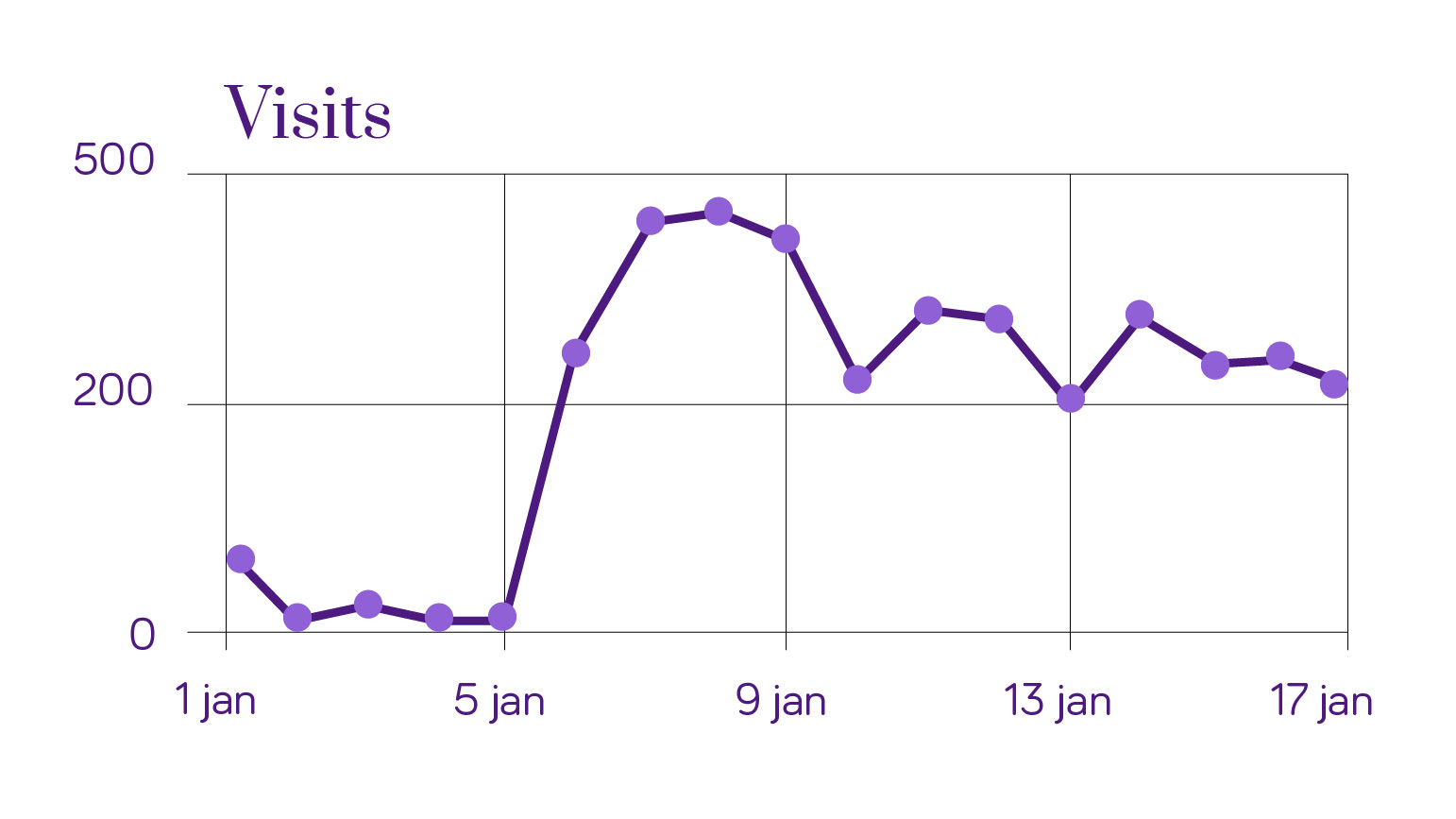 How does cookieless tracking work?
Cookieless tracking uses a variety of methods, including user fingerprinting, device fingerprinting, and browser fingerprinting. With user fingerprinting, the user's IP address, User Agent (the browser or device they use to access the website or app), and other data points are collected and used to uniquely identify the user. Device fingerprinting works in a similar way, but with additional data points, like the device type, language, and operating system, to identify the user. Browser fingerprinting works by collecting information about the settings and plugins of the user's browser.
But hold on!
This is not the way we do it. Extellio does not use finger-printing techniques as it goes against GDPR. We're much more innocent than that. Yes, we collect information about the user's device. But that's about it.
The technical explanation of how Extellio does cookieless tracking/statistics 👇
Extellio uses config_id to group a range of activities into "visits" over a maximum period of 24 hours. The config_id or config hash is a string generated for each visitor based on their OS, browser, plugins, IP address, and language preferences. This hashing process does not reveal any personally identifiable information and is set to expire after a certain amount of time.
Extellio vs Google Analytics
Compared to Google Analytics coookieless tracking Extellio actually collect information. Google Analytics' cookieless tracking is simply an estimate - what they calculate your conversions would be if you had cookies.
Start collecting conversions and website statistic in a GDPR compliant way with Extellio. You can try our analytics with our free license. It's free for as long as you need it.
Have your cookie and eat it too - what we recommend
The solution we recommend is to have both cookies and cookieless tracking on your website.
Keep cookies on your website. Set up a cookie banner with two choices: YES and NO. Use cookieless tracking for those saying NO and collect everything you need from those consenting to cookies.
Want to know more about Cookies?
What is a cookie?
A cookie is a text file that websites put on your hard drive to identify your computer. The next time you visit the website, it will read the file and remember what it put there.
Most of us have visited a website that saved your username for easier access to log in - that's because of cookies!
But what about third-party cookies?
There are two types of cookies - first-party and third-party cookies.
First-party cookies are cookies that only the website or server that created them can read. So if you visited example.com and it set the first-party cookie "examplecookie", only example.com would be able to read it and access the information.

Third-party cookies are cookies from which websites other than the one who created it can read and access information. They are commonly used for advertising, to allow advertisers to serve ads and track user behavior over multiple sites.

And session storage?
sessionStorage (also known as session storage) only lasts a session (hence the name) then they're deleted. The session storage are stored in a temporary memory location in your browser, not on your device like traditional cookies.
The session storage is set when you launch a website or web application and is deleted once you leave the website or close the browser window.

Local storage?
localStorage (also known as Local storage or LocalStorage) is stored in the browser and unlike session storage, doesn't have an expiration date and will not be deleted after closing the browser window. Because of that, local storage is good for saving user information while offline or to save user preferences.
Pixels though?
A pixel is usually a transparent or camouflaged small picture that contains a small snippet of code. It's usually very small - only a pixel wide so the user can't see it on your website. The pixel loads together with the other content on a webpage or e-mail and sends information directly to the pixel company's server. There are two main types of pixels - conversion and retargeting pixels.
Conversions pixels are used to track the effectiveness of marketing campaigns and are usually placed on "thank you"-pages or in order confirmation e-mails. It sends over information about ads the customer saw and if they used an affiliate partner's link.
Retargeting pixels track how the user has behaved on your website which allows the advertiser to show targeted ads to the user. They are similar to third-party cookies, with the distinction that pixels send information directly to the web servers, where cookies are placed on a user's browser and are then read.
Tags?

Tags (also known as container tags or site tags) contain scripts you inject into your website. Sometimes the words pixel and tags are used interchangeably, but while all pixels are tags - not all tags are pixels. You can hardcode tags into your website or use a tag manager.